Sarah Bush, "Letter to Winter"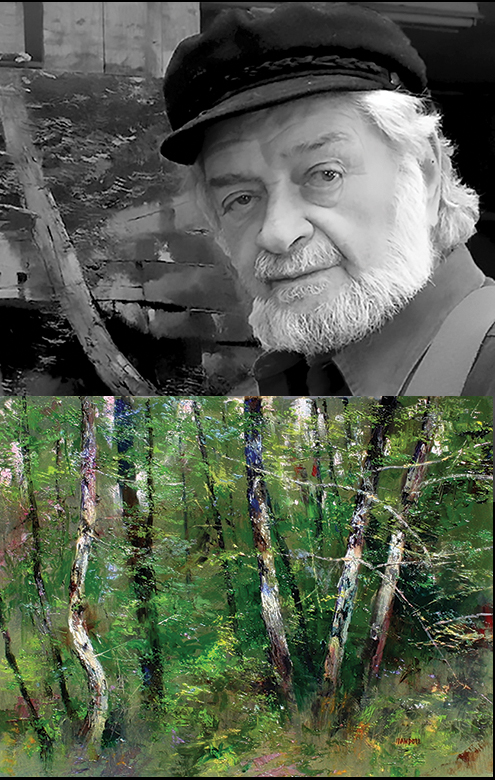 2021 Judge: Albert Handell, Juror for Best of Show
For a period of fifteen years, 1960-1975, Albert Handell's pastels were included in every book published on pastels in the U.S.A. In 1987 The Pastel Society of America elected him into the Pastel Hall of Fame making him one of three living artists so honored. The pastels of Albert Handell enjoy an international reputation and he is known nationwide and abroad for his painting workshops.
Albert Handell lives and paints in Santa Fe, New Mexico. His extensive career includes more than thirty-one solo art shows since 1961 and he has received more thanseventy prizes and awards. He is now represented in Santa Fe by Ventana Fine Art Gallery.
In addition, several Gold Stars and Silver Stars were given to recognize more of the extraordinary work at the 2021 festival:
Gold Stars: Gak Stonn, Erica Wendel-Oglesby, Jim Stonner, Monica Belitz
Silver Stars: Sylvia Luftig, Leonard Archuleta, Kathryn Tatum, D. Davis, Anna Bush Crews, Nina Sampsel, Janet Boccelli, Robert Perez, Emily Saferwood, John Fullbright, Blain Rath
Daniel A. Brown, "All of Heaven and Earth"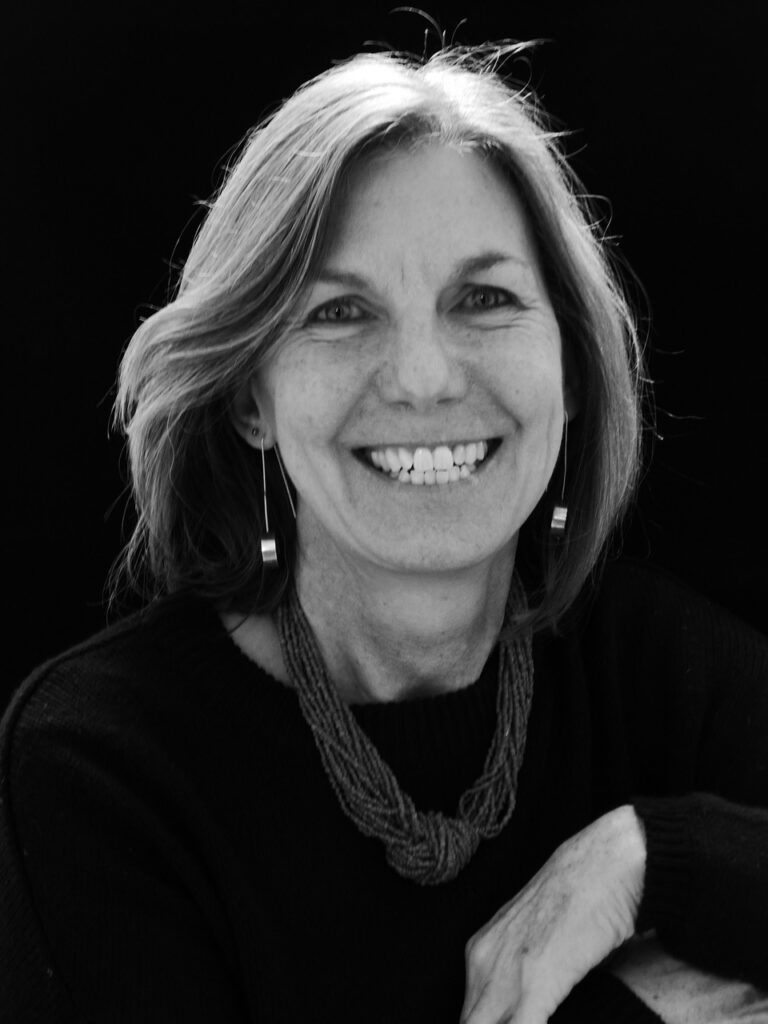 2019 Judge: Andrea Pichaida, Juror for Best of Show
Born in Santiago, Chile, Andrea Pichaida was accepted at age 18 into the Art School of the Pontifical Catholic University in Chile, where she earned in 1987 a Master Degree in Fine Art with honors. She has participated in more than 30 group exhibits in Chile and Argentina and in 12 solo exhibits in Chile and the USA. Her work can be found in many public spaces as well as private collections around the world, including the Vatican. She has given many lectures and has been a curator for many exhibits.
AndreaPichaida.com
Jameson Wells, "Hondo #34"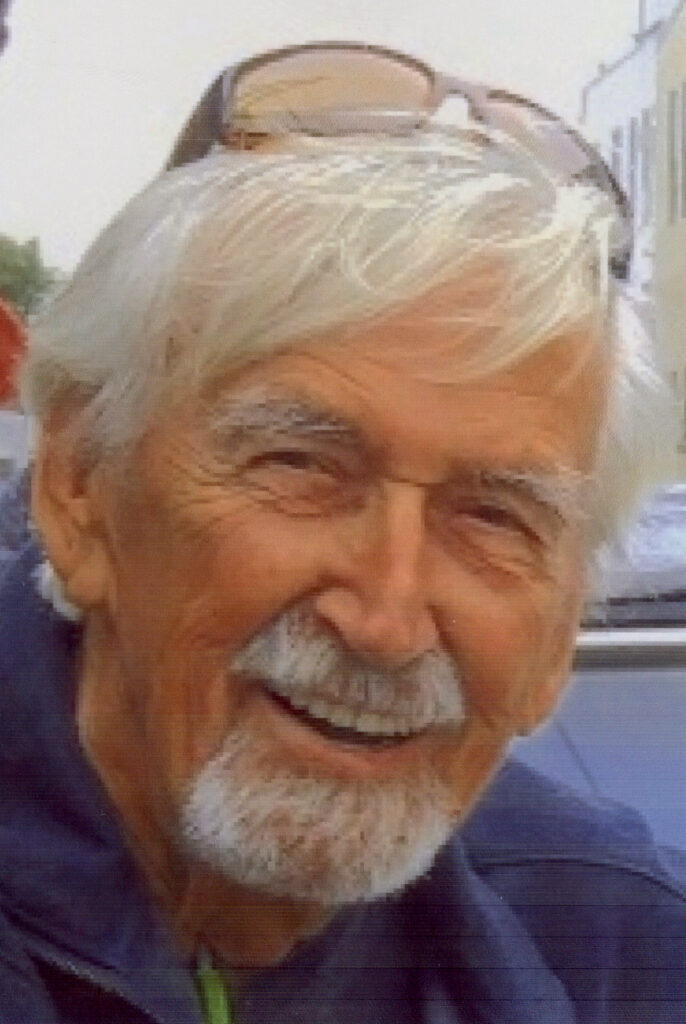 2018 Judge: Taos Fall Arts Fest welcomes 2018 judge, Carl Coker
Carl Coker, retired Professor of Art at University of Tulsa, has exhibited in over 100 national and regional exhibitions. His art has found its way into a multitude of private collections as well as museums, including New Mexico State University, Museum of New Mexico and International Museum of Art. He has been a guest lecturer at the Harwood Museum and given several talks at the Taos Art Association.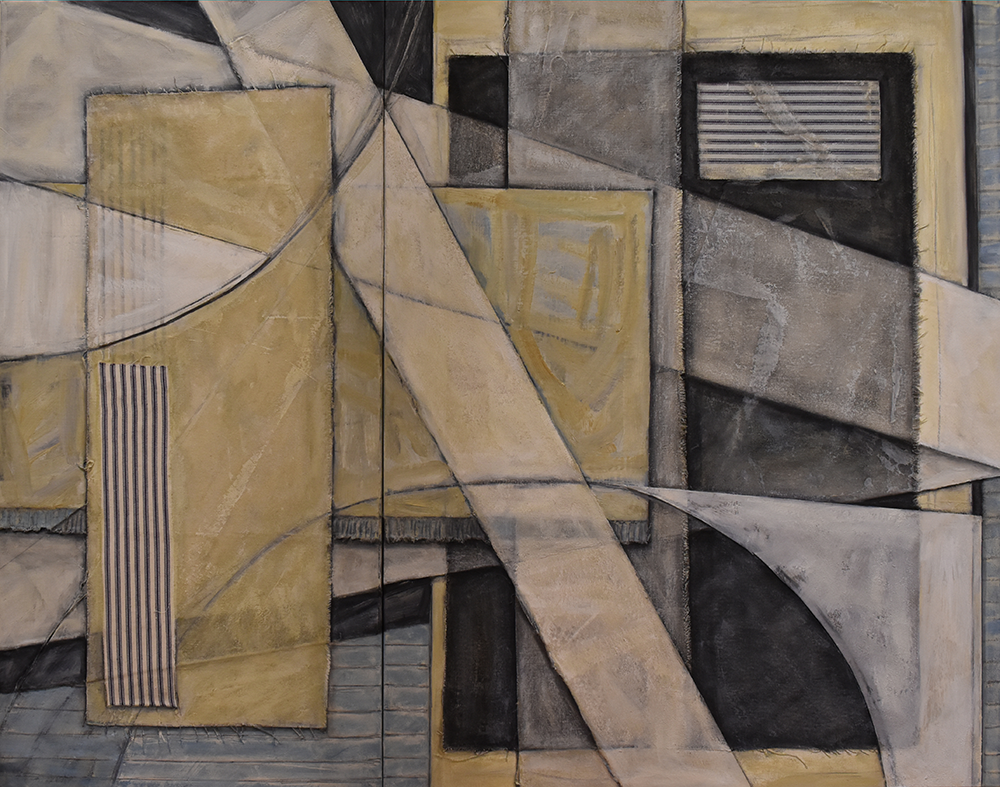 For four decades, Jameson Wells has been producing works of contemporary art in a wide variety of mediums, including paper, fabric, wood and stone. Her work has gone through several periods – from painting images from dreams, carving figurative, symbolist and abstract stone and wood sculptures, combining painting and sculpture together into several series of abstract wall reliefs, and currently layering and weaving paper and fabric into abstract geometric collages. Her latest works use mostly recycled materials, like repurposed old blue jeans and leftover canvas and paper scraps. Some are in vivid color, others in blacks and whites, reds and neutrals, working with illusory and tactile forms, graphite, letters, numbers and symbols. Jameson has displayed her art in Taos and area galleries, museums and art shows throughout the American Southwest and across the country.
Honorable Mention 2018:
Angie Coleman, "Chamisa and Asters"
Angie Coleman, a long time resident of Taos, New Mexico, is known primarily for her color woodblock prints, but also works as an oil painter, and with pastel. The major inspiration for her imagery
comes from hiking and camping in the mountains of New Mexico and Colorado.
Honorable Mention 2018:
Henry Berger, "La Llorona"
Henry Berger is 74, a self-taught painter who works in acrylics and the ashes of dead people.
Berger paints landscapes, naked people, Christian mythology and "more than a few" lions. He says, "If you need a portrait (e.g.: grand kids riding an alligator), I'm your man."
Honorable Mention 2018:
Margaret Nes, "Big Horn Canyon Tops"
Margaret Nes's primary medium is pastel, which she uses in a unique and powerful manner. The pastel pigments fully saturate the entire surface, and are worked and blended in with an almost sculptural quality. Her palette ranges from the richest and most luminous of hues to the most subtle and delicate of shades.
Nes's work has been exhibited in numerous juried and invitational shows and is in collections around the world. Her work invokes a sense of beauty, mystery and wonder that is very much her own.
This year we also have 6 Gold Star mentions:
Tracy Turner Shepard, "The Road Home"
John Thomas Staple, "The Incredible Allure of Passion"
Pattie Traynor, "Los Golondrinas"
Connie Grant, "Red Mesa"
Brigid Meier, "Nine Curanderismo Landscapes"
Norlynne Coar, "Cranes of Peace"
Sasha Van Dorp, "Sunlight"
Best of Show 2017:
Patience Heyl
Inspired by light and the poetry of nature, Patience Heyl captures an essence in her work that speaks louder than paint . Known for her versatility and refusal to put limitations on herself, she displays a wide body of work from brush to palette knife. Compositions range from landscape, still life, to figure painting. If there is a message to share, you will find that voice on her canvas.
Versatile in both watercolor and oil, Patience is included in private collections within the United States, Mexico, and Europe. Her hotel paintings are exclusively sold through the Signature Shop all located on hotel property.
Patience's work has been purchased by The Navigators at Glen Eyrie in Colorado Springs and hangs proudly in The United States Headquarters building. Patience's art work has been juried and accepted by Oil Painters of America.
Maintains her title as Resident Artist for the 20th year at the famous Broadmoor Hotel in Colorado Springs. Patience founded Art On Location which serves corporate groups and individuals with instruction in the fine art of Oil and Watercolor painting.
Honorable Mention 2017:
Peggy Griffey
Peggy Griffey's fused glass art is created in her studio in Ranchos de Taos, New Mexico, with views of Taos Mountain, the Sangre de Cristo Range and the Mesa to the west. From 1970 to 1978, Peggy lived on the Southern Oregon Coast and wove tapestries utilizing French Aubusson, Navaho, and Middle Eastern techniques. In 1980, she received an MFA in Design from Stanford University (CA). In 1983, another path beckoned and Peggy attended the University of Texas School of Law, from which she earned her JD in 1985. She subsequently practiced law on behalf of the Texas Attorney General's Office from 1985-1998 and the United States Department of Justice from 1998-2012. But the creative spark was never far from the surface. In 2008, her artistic focus shifted to fused glass and in 2012, she quit the practice of law and moved to Taos to focus exclusively on glass. She is represented by Hand Artes Gallery, Truchas, New Mexico, and Untitled Fine Art Gallery, Taos. Her work can also be viewed online at peggygriffeystudio.com
Honorable Mention 2017: Diane Ainsworth
Diane Ainsworth is a professional artist living in Taos, New Mexico. She was born in 1944 in Abilene, Texas and raised in Tulsa, Oklahoma. She took art lessons starting at a young age studying watercolors and oils. Diane continued her studies by majoring in fine art at Oklahoma University and the University of Tulsa.
In 1985 she was inspired by plein air painters in Taos New Mexico, when she took a workshop. "The colors, texture and richness of the oils were a wonderful combination to express the vivid hues and glorious light of New Mexico."
She was known as an impressionist painter and was a co -founder of the Oklahoma Society of Impressionists. Diane moved to New Mexico in 1990. She enjoyed the artist colony there and was active in the Taos Art Association. She won awards and today credits the Taos experience as one of the most inspirational and beneficial of her life. In 1995 Diane made another move to Port Townsend, Washington, where she painted and taught workshops for 20 years. Last year Diane returned to Taos to live with the artistic inspiration, magic warm light and great community.
Honorable Mention 2017: Anna Magruder
Anna Magruder is a Taos oil painter, illustrator and graphic designer. Her favorite subjects are people and animals and whatever lies between. Drifting between realism and surrealism, she loves recreating vintage America, re-imagining the lives and stories of the characters on canvas or just exploring the emotional color of faces.
In 2012 Anna was a featured artist on Oregon Art Beat – OPB's Emmy Award-winning local arts series. She is a recipient of a 2014 RACC grant for her "Oregon's Painted History" series, and was honored with a 2015 artist residency at the Helene Wurlitzer Foundation in Taos. Her art appears in numerous publications and private collections.
Her artwork can be found at Taos Print & Photography, and Optimysm. And online at AnnaMagruder.com