Renate Collins Hume 2023 Lifetime Achievement Award Winner
Renate is an intuitive and a healer who retired from a long career as a counselor, lecturer and workshop leader.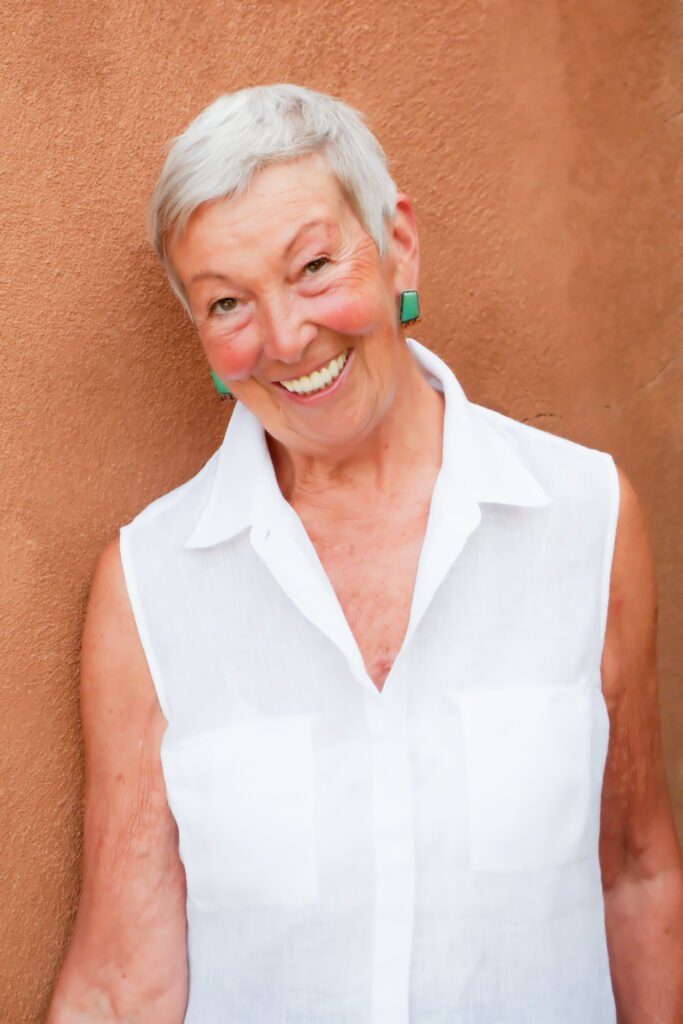 Renate is an intuitive and a healer who retired from a long career as a counselor, lecturer and workshop leader.
Renate Collins Hume, who lives in Taos, New Mexico hails from Westfalen, Germany originally and has been in the US for several decades now. Already with a past including careers in music and pharmacology, she emigrated to the US in 1970 in pursuit of her interest in natural healing, psychotherapy, and shamanism.
In 1993 she happened to take a class in botanical illustration and was hooked. NYBG and IESS in Millbrook, NY awarded her with a diploma as a Natural Science Illustrator.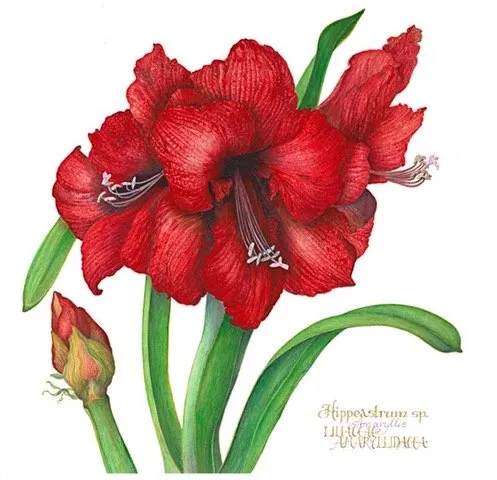 From there she took off.
In 1998 she chaired the Taos Fall Arts Festival, had numerous one-woman-shows in Taos, NY, and LA, received "Best of Show" and "Best of Representational" in 2000, and was accepted into an International Botanical Exhibit in Buffalo as one of twenty artists.
Renate served on the boards of the Harwood Museum Alliance, the Taos Institute of Arts, the Frank Waters Foundation, Rotary International, and the Hospital Foundation before moving to Ojai, CA.
She was Artist in Residence at the Ojai Valley Inn and Spa's "Artist Cottage and Apothecary" for 10 years, and a member of the Ojai Studio Artists (OSA), participating in studio tours and museum exhibits. Renate also designed a line of precious jewelry she presented in trunk shows in very special venues.
Renate's art and jewelry have been acquired by the Calatrava Museum in Milwaukee, the Museum of the Desert in Palm Springs, Walt Disney Concert Hall in LA, among others.
Since moving back to Taos, she has taught and counseled clients at other five diamond resorts in TX, NJ, CA, HI, the UK, and France. Renate is also one of the Visiting Artists in the Taos Municipal School System.
In addition to traveling extensively, studying, and teaching abroad, she has published three books: a children's book about being different, an inspirational book about a stone's journey, and a handbook about Personal Therapeutic Mandalas.
Her current studio is "The Brush and the Pen" where she focuses on conducting private sessions in Personal Mandala Therapy, which she formulated in 1998 at FWF, and on helping people finding and accessing their full potential. She is a counselor, artist, and teacher, and loves curating art shows (the last one was her own in 2022 at the Taos Country Club).
Renate and her husband Ted, a retired International Trade Attorney, and writer live with their tetrad of rescue dogs in Taos.
www.renatecollinshume.com
Renate Collins Hume, See the full article on the Lifetime Acheivement page.
Charles R. Strong Distinguished Lifetime Achievement Award 2022
Thom Tex Wheeler makes art that springs from a joy of living and an unflinching optimism.
Thom was born in Alice Texas in 1946. After serving as a sergeant in the US Army Medical Corp from 1969-1971 he attended Sam Houston University and graduated in 1975.
His art career began in Houston Texas as a sculptor of monumental works of stone, wood and metal. He was commissioned by designers and architects across the United States to create large-scale sculptures that adorned restaurants, hotels, offices, private homes and yachts. The size of these pieces allowed him more canvas to interpret the feelings his clients wanted to convey. His work embodied the exuberance of the oil boom in his native Texas.
In 1985 Thom left the big city for Taos, New Mexico. His sculpture and painting turned to a very distinct New Mexican theme. He creates aluminum, bronze and copper wall sculptures that resemble giant pieces of jewelry, embellished with semi-precious stone.
Charles R. Strong Distinguished Lifetime Achievement Award 2021
The recipient of the Charles R. Strong Life Time Achievement Award this year is the sculptor John Suazo, of Taos Pueblo. A spiritual man, Suazo says, "I believe all things possess life and spirits that communicate, even stone that has witnessed so many things in its lifetime from its beginning to transformations brought about by wind and rain. . . "
A lot of his work also involves stories that he heard from his grandparents and elders. He believes that there is a spiritual quality to Native work that makes people want to connect with it. A former student of Chiricahua Apache sculptor Allan Houser, Suazo works in a variety of stones. His work is exhibited in galleries and museums across the country and internationally.
Photo by Norlynne Coar
Charles R. Strong Distinguished Lifetime Achievement Award 2019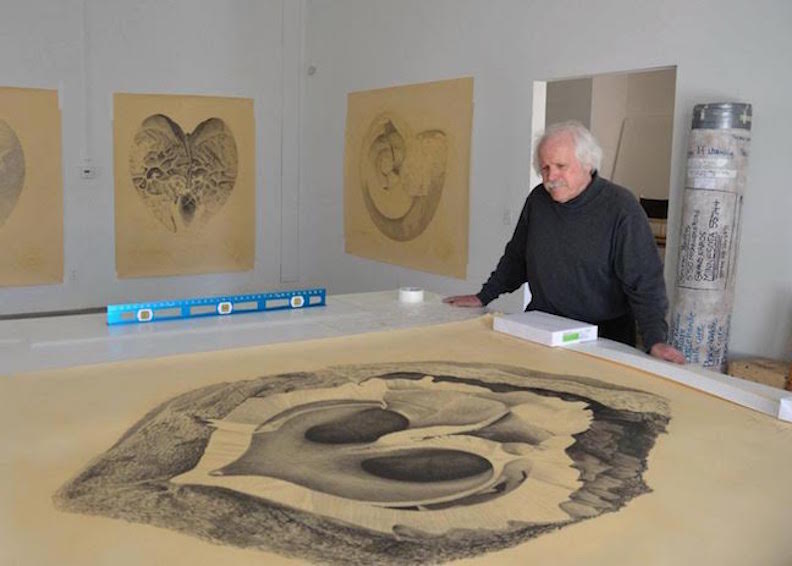 Born in 1939 in River Falls, Wisconsin, by 1965 Gendron Jenson was fully engaged with relics gathering examples from lake shores surrounding the property of Benedictine abbey in Southern Wisconsin where he worked in the abbey printshop. Gendron who is self-taught in drawing has never stopped. Ann Landi, in Vasari 21, May 21, 2015 states "He works in graphite on seven-foot sheets of paper producing meticulous renderings of the intricate infrastructure of wildlife."
Gendron moved to Northern New Mexico in 1987 and married Christine Taylor Patten, an artist in Santa Fe. Gendron Jensen has worked with the Tamarind Institute, UNM, to produce lithographs of from his drawings. "Why bones? … For me, beyond the physical fact of death, bones are portals, thresholded estuaries unto exaltation. The bones seem to verily sing, they hum with resonant mystery," states Gendron Jensen.
Charles R. Strong Distinguished Lifetime Achievement Award 2018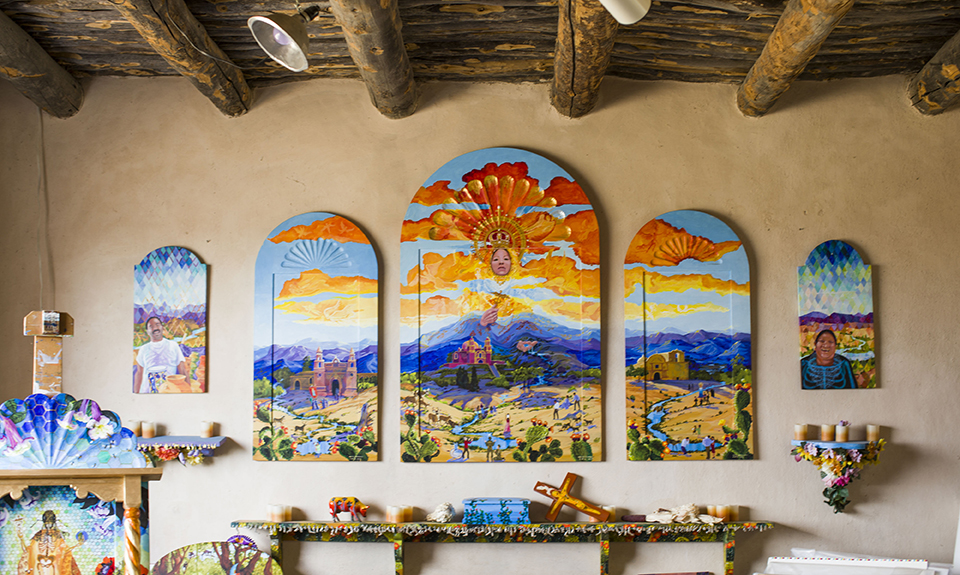 Photos by Michelle Magdalena
The Taos Fall Arts Festival is deeply honored and pleased to announce Anita Rodriguez has been chosen by the Board of Directors as this year's recipient of the Charles R. Strong Distinguished Lifetime Achievement Award. Her work will be displayed in a special section of the 2018 Festival, "Beyond the Horizon/Mas Alla Del Horizonte" September 21-30 in the historic Guadalupe Parish Gym. She will receive her award at the opening public reception 5:00-7:00pm on Friday, September 21. The Award is supported in part by the Charles R. Strong Fund at the Taos Community Foundation.
Anita Rodriguez was raised on Taos Plaza where her father, Alfredo Antonio Rodriguez (better known as "Skeezix") owned a drugstore. Her mother, Grace Graham King, was from Texas and came to Taos for art study with Walter Ufer, a member of the Taos Society of Artists. In her late 20"s Anita resurrected the technology of the enjrarradora, or traditional female adobe finisher and she became the first licensed female contractor in northern New Mexico. During 25 years of professional practice she brought the enjarradora's techniques up to code and made them standard practice in the earth-building industry.
At age 45 Anita retired from contracting and started painting full-time. Her work mirrors the stories, landscapes and traditions of her beloved New Mexico and her second country, Mexico, where she lived for 15 years. "I started out as an abstract expressionist" says Anita. "But I ended up looking for a visual vernacular that transcends class and culture, that has plenty of intellectual chew-toys for those so inclined, but that is accessible to the people I grew up with." Many of her characters are skeletons, a Mexican influence, but her paintings celebrate life – dancing, making love, driving low riders, praying and eating. Her work is shown at Magpie, Optimysm and Studio 107b. At 75 Anita wrote Coyota in The Kitchen, a book illustrated with her paintings and the recipient of many awards. An outspoken activist, Anita has never been afraid to speak her mind and take a stand. She says, "I am not a liberal or a progressive – I am a revolutionary."