Kids Give Back was created by the Taos Fall Arts Festival in 2011. Each year the Board makes an award to a children's art programs in and around Taos. Award recipients receive a cash prize and are invited to mount an exhibit during the following year's Festival. Past recipients include Talpa Center Ceramics department, Harwood Museum of Art children's art program and Taos High School Art Program.
Each year Taos Fall Arts Kids Give Back awards money to various organizations that foster the continuation and develpment of art programming for children in Taos County.
To apply for $500 grant, please include the following:
Your name and name of program.
Where program is located.
Description of program and approximately who and how many children it serves. Approximate age range as well.
What you are planning on using grant money towards/art program needs.
Include any images of past or recent work with the kids that you would like to provide.
The deadline for application for grant is September 1, 2023, at midnight.
Please submit application to Lisa Harris at Taoskidsgiveback@gmail.com
​Information about the Kids Give Back Benefit Event can be found here.
2022 Kids Give Back Award Winners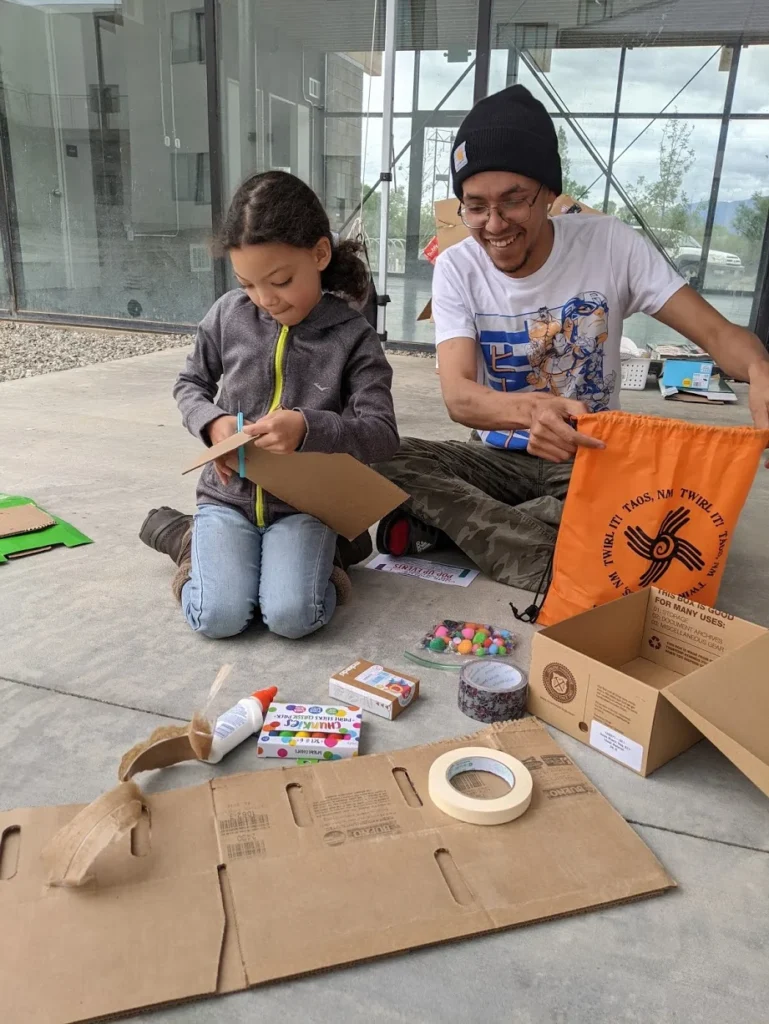 Since 1991, Youth Heartline has strived to make life safer and better for children and families in our communities. We provide services to over 500 children, youth, and families each year. We assist families in our community with education, referrals, support, therapeutic services, and activities to foster family connection.
Youth Heartline receives federal, state, and local funding and encourages community contributions through private donations.
Youth Heartline participated with their art show and t-shirt art contest hosted at TFAF
UNM-Taos Student Art Show and Scholarship Award this year was granted $1,000 by Taos Fall Arts Festival
Oo-Oo-Nah Art & Cultural Center
Vagrant Heart
Rio Grande Youth Art Mural
2019 Kids Give Back Award Winners
Oo-Oo-Nah Art & Cultural Center, Taos Pueblo provides the Taos Pueblo Community the gift of traditional and contemporary arts and culture, servicing youth, young adults and senior citizens through its programs.
The 2019 Kids Give Back grant award will be used for an after school session of Art for the Fun Of It for youth ages 6-14.
Scripture shares the art of mural painting with grade school children
Vagrant Heart is an alternative street and graffiti art gallery. They provide a safe and creative space to involve the community in events, workshops, seminars and classes.
The 2019 Kids Give Back Grant award will provide youth with the opportunity to engage with the arts and helps create an outlet that contributes to the community.
Rio Grande Youth Art Mural at Town of Taos Youth and Family Center
Anansi Charter School
FarmHouse Cafe
twirl
2018 Kids Give Back Award Winners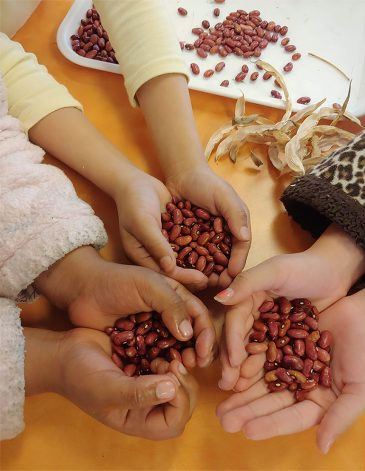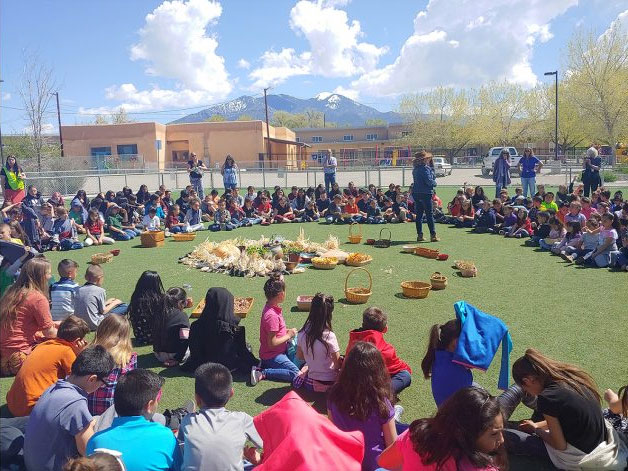 FarmHouse Cafe, Nikki Cain and Micah Roseberry
"Growing Community Now,"
The beans are Taos Red Beans that we acquired from the Native Seed Exchange. When we received the beans, there were only 25 pounds of seed left. The students have been a part of a larger effort to regrow the seed stock so that the beans can remain a viable crop in the future. It's similar to helping keep a dying language alive; without a thoughtful effort the plant will no longer be able to provide sustenance and its use will fade from knowledge.
The kids are really proud of being a part of this effort. Seed saving is a part of agricultural arts in a profound way. Seeds help traditions to keep going. The seeds themselves must be harvested, prepared, and kept according to process that are passed down from one generation to the next. They grew and harvested the blue corn in Parr Field.
The funds that we received from Taos Kids Give Back helped to support our first seed honoring event at Enos Garcia, as well as the seed saving programming during After School Care Enrichment at Enos Garcia.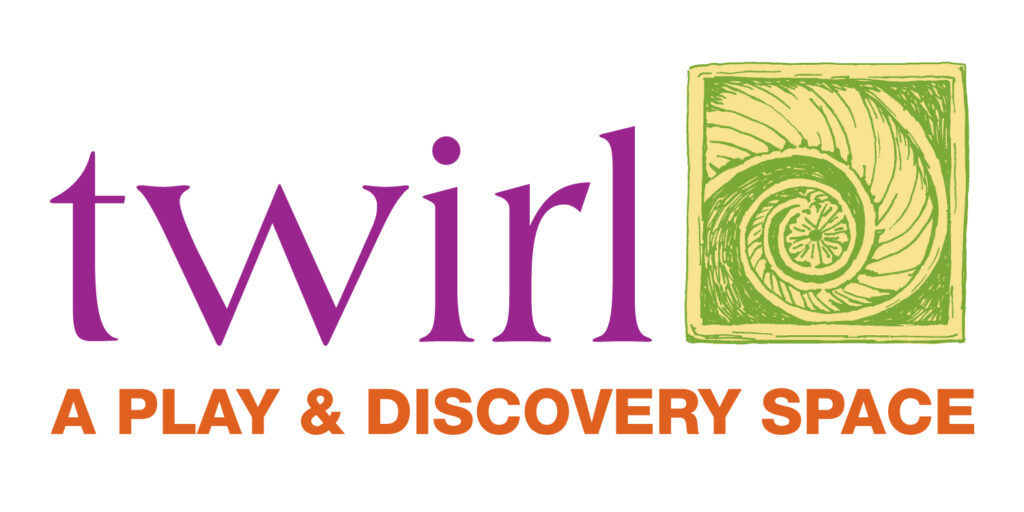 Taos Integrated School for the Arts
Taos Pueblo Day School
2016 Kids Give Back Award Winners
The Taos Fall Arts Festival Board made two, $500 awards from the success of a benefit brunch and tour of "Non-Objective Taos" at 203 Fine Arts during the Festival. Special thanks to sponsors Common Fire and Black Mesa Winery Tasting Room and Gallery and our generous attendees for their support. Taos Clay Studio provided unique plates for the brunch!
Taos Integrated School for the Arts, Megan Bowers Avina Instructor
Taos Integrated School for the Arts is a charter school with a curriculum based on dance, music, drama and art classes for all grades. 
Taos Pueblo Day School, Dolly Concha Instructor
This is the first year for an art program at The Taos Day School for students in 1st to 7th grades and many of the art projects involve recycled materials.
2015 Kids Give Back Award Winner
2015's Award went to SmArt House, a neighborhood arts and literacy program of Youith Heartline. SmArt House and its teacher Siena Sanderson. SmArt House engages students in educational, meaningful, and fun activities integrating arts, computers and the Internet, reading, writing and social-emotional learning. SmArt House is a neighborhood arts and literary program founded by Youth Heartline, child advocacy programs serving children in the Gusdorf Circle low-income housing complex in Taos.
The mission of the SmArt House program is to provide quality arts, health, and literary programming on location to under served and isolated communities in Taos. SmArt House operates out of a unit in the Gusdorf Circle Housing Complex and provides after-school and summer activities for area children.